Istanbul has an excellent transportation system utilizing almost of all the known forms of public transport. Within the city limits one can ride on buses, metrobuses, subway trains, suburban trains, trams, funiculars, cable cars, ferries, fast ferries, sea buses and sea taxis. There are numerous modes of public transport in the city and most of them are linked to one another. We use a system called ISTANBULKART which is a contactless electronic card.
Regular Istanbulkart
The regular Istanbulkart is sold at ticket booths near major transportation hubs like Eminönü, Taksim and Beşiktaş. Also, it's widely available at the newspaper stands and kiosks, and you can buy them from the self-service refill points at some of the metro stations and transfer points as well. The regular fare is 2,60 ₺ and after you make your first transfer it reduces to 1,85 ₺.
You pay a fee of 6 ₺ for the card itself, then you can load as much credit as you'd like on it using the self-service kiosks named as (ISTANBULKART DOLUM NOKTASI, meaning Istanbulkart refill point).
To use your Istanbulkart, you will need to place the card on the electronic readers placed on top of the turnstiles. You will hear a beep sound which signals that you are okay to pass. You can monitor the remaining credit from the digital screens on the turnstiles after each use.
Student Istanbulkart
This is the card that will be the one you can apply for with a student certificate from university. This card is the cheapest way you can travel around Istanbul. The fare for students is only ₺1,25 and after the first transfer it reduces to ₺0,55. We recommend you get it as soon as possible. The Student Istanbulkart costs 10 ₺.
You need the following during your application:
Student Certificate
1 Photograph (passport photo)
YOK Number
Passport
For details: https://www.iett.istanbul/en
You can also reach the current fares from here: https://www.iett.istanbul/tr/main/pages/iett-toplu-ulasim-ucret-tarifesi/42
Transportation System
Buses: Istanbul buses come with different colours so don't be confused about it. They can be in green (means they are environment friendly), purple or yellow (means they are furnished specially for the disabled people), turquoise (meaning they are run by private companies). All them will accept your IstanbulKart and/or electronic tickets.
There are 5 lines that you can use to go somewhere from Hisarüstü or Boğaziçi University:
43R        RUMELİ HİSARÜSTÜ – KABATAŞ
559C      RUMELİ HİSARÜSTÜ – TAKSİM
59R        RUMELİ HİSARÜSTÜ – ŞİŞLİ
59RH     RUMELİ HİSARÜSTÜ – İSTİNYE – HACIOSMAN METRO
59RS      SARIYER – RUMELİ HİSARÜSTÜ

Metro: The system currently consists of six lines named M1A (Yenikapı-Atatürk Airport), M1B (Yenikapı-Kirazlı), M2 (Yenikapı-Hacıosman), M3 (Kirazlı-Olimpiyat-Başaksehir), M4 (Kadıköy-Tavşantepe), M5 (Üsküdar-Çekmeköy) and M6 (Levent-Boğaziçi University/Hisarüstü).
For details: https://www.metro.istanbul/Home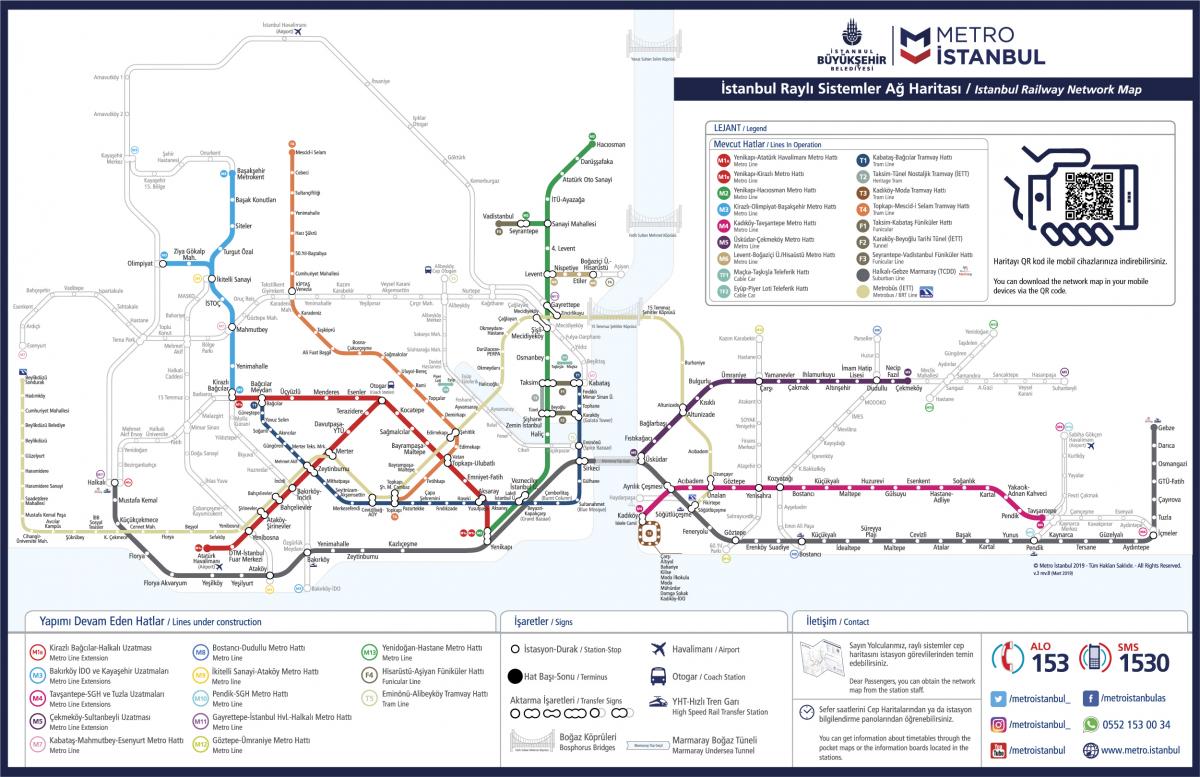 Funiculars and Trams: They are basically metro trains that go only one stop connecting one sea-level point to a higher point on a hill. There are two funiculars in Istanbul. One is called as TÜNEL (F-2) which is one of the oldest subways of the world dated back to the Ottoman Empire. Tünel climbs the hill from Karaköy to Beyoğlu (Istiklal Street). There, there is a connection possible with the nostalgic tram (T-5) that goes all way till the famous Taksim Square. The other funicular (F-1) is a modern one and climbs the hill from Kabataş to Taksim (it has seamless connection with the T-1 tram line and M-2 metro line).
Ferries: Istanbul is a city of the seas. Ferries are inseparable part of the urban life. They are clean, comfortable and inexpensive way of crossing to the other side of the city.
For details: http://en.sehirhatlari.istanbul/en
Metrobus: Metrobus is a 50 km bus rapid transit route in İstanbul with 40 stations which follows the city's ring-road via Beylikdüzü, Avcılar, Zincirlikuyu and the Bosphorus Bridge to Söğütlüçeşme using dedicated bus lanes for much of the route.
The routes are: 34 (Avcılar - Zincirlikuyu), 34A (Söğütlüçeşme - Cevizlibağ), 34AS (Avcılar - Söğütlüçeşme), 34BZ (Beylikdüzü - Zincirlikuyu), 34C (Beylikdüzü - Cevizlibağ), 34G (Beylikdüzü – Söğütlüçeşme (only from 10 P.M. to 6 A.M.)), 34U (Uzunçayır - Zincirlikuyu), 34Z (Zincirlikuyu - Söğütlüçeşme)
For details: https://metrobus.iett.istanbul/en
Minibuses: They are vans (or minibuses) operated as shared taxis. They have routes as well as stops. However, it is very common that you can hail one of them as you do for a taxi. They will not accept any payment other than cash.
Cablecar: The cablecars connects Eyüp and Pierre Loti where one can enjoy the fabulous views of the Golden Horn. 
Havabus (for Sabiha Gökçen Airport) & Havaist (for İstanbul Airport) Shuttles: It's a very common way to go from either of Istanbul's airports to the city centre. Their stops are conveniently located in front of the arrivals exit of the both airports.
For their routes and fares, have a look: http://www.havabus.com/ http://hava.ist/en/